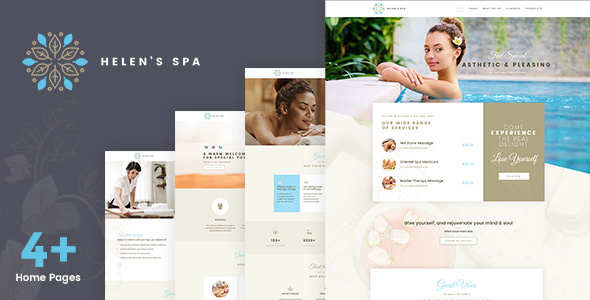 Beauty & Wellness Center WordPress Template
Helen Spa – The best Spa and Wellness WordPress Template, is the attractive Beauty Spa Website. It suits best for spa salon, nail salon, Wellness center, Healing center, Massage center, Yoga class, health shop, Alternative Medicine, Salons and beauty store, spiritual website, spiritual journey.
Helen Spa offers Health and Wellness Procedures and Spa Procedure details, therapist page, spa booking service, spa service appointment
This Health Spa and Wellness WordPress Template offers Therapy, Treatment details, Pricing, Spa Booking, spa services, spa therapist detail pages. Create websites with Hinduism, Chinese Medicine, Buddhism, tantric yoga, wellness website, hypnotism, psychic website, tourism website.

Wellness Template Features
A beautiful homepage greets you with its subdued splendor! A bewitching display of the services available in your Spa center could be displayed here. Hot stone massage, oriental Spa manicure and massage therapy reveal their short descriptions with an appropriate cost. What is more, a cool Call To Action button "Book Now" would entail a quick decision from your visitors.
Its Helen Spa
Scrolling down, you would be able to explore the other services available in the Spa such as Skincare, Massage Therapy, and Body Treatments. You would also find a appointment booking form using which you can book an appointment for the service you require on a specified date.
More modules are made available on the Homepage that would help you to expound your services in more depth to your visitors. This feature is followed by a 3 column blog posts which help you further to showcase your services and therapies clearly to your customers.
The blog section is followed by the Team Section, wherein you can have your therapists, masseurs & masseuse , besides other medical specialists like Dermatologists, Physiotherapists and others working in your center.
What follows the Team Section, is the Testimonials section, wherein you can display the feedback of your customers about your treatments. The procedures and their details could be summarized here giving more details about the unique treatments and therapies your Spa offers.
Finally, the Homepage offers a Newsletter pop up inviting the visitors to opt-in for your Newsletters to stay updated with the latest offers from the Spa. The address, email and contact numbers provided here to complete the invitation.
Moving on, Helen Spa offers a About Us page, a Services page with a dedicated subpage on Procedures and Procedure Details, a Therapists page and finally a Why us page.
Let us see in depth, how you could use these pages to derive maximum mileage out of them.
About Us Page:
Here you could display your services in its full splendor with beautiful images and a beautiful timeline is provided for you to recall your glorious past history. Use these features to your advantage and market your Spa's treatments and offerings.
Services Page:
Using this page, you will be able to showcase your myriad features of your Spa treatments and procedures at a glance. More modules are available to display your therapies and rejuvenation treatments to your customers.
The Deal Timer or Announcement Timer:
The Deal Timer or Announcement Timer or Countdown Timer is a case in point. You could display your varieties of treatments, the number of active customers, the locations your business is available, and the number of employees you have. The sky is the limit for your creativity in displaying your business scenario. In Helen Spa Template, there are many modules of Tabbed Document Interfaces as well as Timeline features. Use them to your advantage!
Tabbed Document Interfaces:
You would also find a number of creative modules of Tabbed Document Interfaces in Services Page, that would help you display your services in more creative ways by this tabbed feature. It is a novel way to showcase more information in a relatively smaller space.
Therapists Page:
This dedicated page for Therapists offers an enormous advantage in terms of the services. Each and every member of your Team could be listed here and their credentials shown against their name and image. The customers would be able to book their appointments for the particular treatment they need to undergo.
Why Us Page:
This page provides an additional space to create more of the content of your business using the timeline frame, dynamic contents, Deal timer and tabbed document interfaces. Very useful to depict all your services graphically attractive with animated content to keep your visitors engrossed in your site.
Procedure and Procedure Details page:
The procedure page gives an opportunity to graphically describe your offer of the procedures done in your Spa or Treatment Center. The Procedure Carousel feature is a great way to depict your services that keep their attention riveted in your services.
Create Dynamic Content:
Helen Spa Template is a perfect fit for showcasing your Spa, beauty parlors, hair salons, unisex gyms as well as exclusive male and female gyms, wellness centers, salons of all types, massage centers, yoga studios and just about any hospitality centers. Having developed more than 150+ themes in WordPress & Shopify platform, Helen Spa comes with intuitive features needed for successfully running your online Spa and Wellness Centers.
No coding needed:
The Drag & Drop Page Builder makes everyone a designer without the coding know-how! The power of Visual Composer is integrated into Helen Spa Template. Create pages quickly with few clicks in few minutes with the help of Visual Composer and custom Helen Spa Template shortcodes.
Designthemes Core Features Plugin:
A simple WordPress Plugin designed to implement core features of DesignThemes. Version 1.0 of this Plugin is integrated into the themes by DesignThemes. This Plugin is a repertoire of all the shortcodes and custom post types by Designthemes. It is compatible with Visual Composer extensions and other third-party APIs. Therefore, designing of the layout and pages become a lot simpler with this Plugin.
Designthemes Blog Addon:
A simple WordPress plugin designed to implements blog features of themes designed by DesignThemes.
Kirki:
Kirki is the ultimate toolkit for Template developers using the WordPress Customizer. Helen Spa Template lets you take advantage of its advanced features and flexibility. Simply by abstracting the code, it is easy for everyone to design beautiful and meaningful UI.
Unyson:
Unyson is a free Plugin that is easy to configure. It offers the Drag & Drop framework coming as it does with a bundle of extensions which will work from the backend real fast and easy. Helen Spa offers the Unyson Plugin integration so that you can create backup and import demo contents besides archiving the demo content for migration.
Unyson One Click Importer:
If you like the demo content in Helen Spa Template, no problems. You can easily import the demo content using the Unyson One Click Importer. Not only that, it saves you time as you need not create content from the scratch for your site. Your site would look exactly like the Template demo page. You only need to customize and modify it to suit your requirements such as adding your logo and your content. It is simple to import the demo content using the Unyson One Click Importer. Identify the demo you want to import, click install to import the dummy content like in the demo.
WP Bakery Pagebuilder:
Formerly known as Visual Composer, WP Baker Pagebuilder makes designing of a site into a simple Drag and Drop affair that everyone would simply love to get their hands on. Using the WYSIWYG-what you see is what you get-interface, it is a piece of cake to design your website like a professional!
Visual Composer Ultimate Addon:
Includes Visual Composer premium addon elements like Icon boxes, model Popups, Info Box, Interactive Banner, Flip Box, Info List & Counter. Best of all – provides A Font Icon Manager allowing users to upload/delete custom icon fonts. Parallax, Video Backgrounds, Row effects, CSS3 animations, icon fonts and much more!
WooCommerce:
With endless flexibility and access to hundreds of free and premium WordPress extensions, WooCommerce now powers 30% of all online stores — more than any other platform. Sell anything, anywhere With WooCommerce, you can sell both physical and digital goods in all shapes and sizes, offer product variations, multiple configurations, and instant downloads to shoppers, and even sell affiliate goods from online marketplaces.
WordPress Importer:
The WordPress Importer will import the following content from a WordPress export file: Posts, pages, and other custom post types. In addition, Comments, Custom fields and post meta, Categories, tags, custom taxonomies as well as Authors and more from a WordPress export file.
Contact Form 7:
Helen Spa Template offers Contact Form 7 using which you can design as many forms with an unlimited number of input row fields in your form. You can design your own forms and limit spam and increase conversion. When you are running a site, there may be different requirements for forms to be configured from time to time. Contact Form 7 handles all.
Breeze:
Breeze is a WordPress cache plugin with extensive options to speed up your website. Breeze is a free, powerful, user-friendly WordPress Caching Plugin developed by the Cloudways team. It offers various options to optimize WordPress performance at various levels. Breeze excels in the following areas: Performance: Breeze improves website speed and resource optimization. Other features include file-level cache system, database cleanup, modification. Convenience: Breeze is easy to install and configure directly from WordPress. Simplicity: Breeze is designed to be simple for all users. Just install and activate the plugin and you'll see the results instantaneously.
Akismet anti-spam is used by millions as Akismet offers the best protection from spammers. Protect your blog from spam using Akismet which keeps your site protected even while you sleep! It is simple to get started with Akismet. Just activate the Akismet plugin and set up your API key in Akismet Settings. Simple, right?
Regenerate Thumbnails:
Regenerate Thumbnails lets you regenerate the thumbnails for your image attachments. This is particularly useful if you've changed any of your thumbnail dimensions. Or had changed to a new Template with different featured post image dimensions. You can either regenerate the thumbnails for all image uploads, individual image uploads, or specific multiple image uploads.
Shortcodes galore:
Helen Spa Template offers a plethora of shortcodes to configure your modules like tabs, accordions, buttons, and tooltips. The shortcodes offered in Helen Spa Template is mind-boggling. Well, almost every conceivable need has been analyzed and these shortcodes have been included. All the requirements of your site for Blockquotes, Buttons & Lists, Carousel, Columns, Contact Info, Content Shortcodes, Custom Posts, Fancy Boxes, Icon Boxes, Image With Caption, Miscellaneous, Number Counter, Pricing Table, Progress Bar, Tabs & Toggles, Team, Testimonials, Carousel Testimonials, Timeline and Typography.
Typography:
With more than 600+ Google webfonts and the FontAwesome icons, you can set any color or size in your site and design your pages at will. You will become a professional designer by adding Google Fonts with typography field. In addition, you could add tooltips to help your users.
Legendary Support:
Using the extensive documentation, knowledge base and video tutorials you can get any clarification you may require about Helen Spa Template, 24/7.
NOTE:
Images used in the demo are not included for download, these images are copyrighted, if you are planning to use the photos we can provide the links to buy a license.
HelenSpa WordPress Template Changelog *
2020.07.04 – version 2.1
* Compatible with wordpress 5.4.2
    * Updated: All premium plugins
    * Updated: Some design tweaks
    * Updated: Sub menu mouse hover issue
    * Updated: Activating another Template causes error
2020.02.06 – version 2.0
* Updated : All premium plugins
2020.01.29 – version 1.9
* Compatible with wordpress 5.3.2
* Updated: All premium plugins
* Updated: All wordpress Template standards
* Updated: Privacy and Cookies concept
* Updated: Gutenberg editor support for custom post types

* Fixed: Google Analytics issue
* Fixed: Mailchimp email client issue
* Fixed: Privacy Button Issue
* Fixed: Gutenberg check for old wordpress version

* Improved: Tags taxonomy added for portfolio
* Improved: Single product breadcrumb section
* Improved: Revisions options added for all custom posts
2019.11.15- version 1.8
* Updated all wordpress Template standards
* Compatible with latest Gutenberg editor
* Updated: All premium plugins
* Compatible with wordpress 5.3
2019.07.26 – version 1.7
* Compatible with wordpress 5.2.2
* Updated: All premium plugins
* Updated: Revisions added to all custom post types
* Updated: Gutenberg editor support for custom post types
* Updated: Link for phone number module
* Updated: Online documentation link, check readme file

* Fixed: Customizer logo option
* Fixed: Google Analytics issue
* Fixed: Mailchimp email client issue
* Fixed: Gutenberg check for old wordpress version
* Fixed: Edit with Visual Composer for portfolio
* Fixed: Header & Footer wpml option
* Fixed: Appointment person display under the services in backend
* Fixed: Breadcrumb issue in services page
* Fixed: Site title color

* Improved: Single product breadcrumb section
* Improved: Tags taxonomy added for portfolio
* Improved: Woocommerce cart module added with custom class option

* New: Whatsapp Shortcode
2019.05.20 – version 1.6
* Gutenberg Latest fixes
* Updated Visual Composer and Layerslider plugins
2019.05.13 – version 1.5
* Gutenberg Latest update compatible
 * Portfolio Video option
 * Coming Soon page fix
 * Portfolio archive page breadcrumb fix
 * Mega menu image fix
 * GDPR product single page fix
 * Codestar framework update
 * Simple Booking Manager plugin fix
 * Wpml xml file updated
 * disable options for likes and views in single post page
 * Updated latest version of all third party plugins
 * Some design tweaks
2019.01.22 – version 1.4
* Gutenberg compatible
 * Latest WordPress version 5.0.3 compatible
 * Updated latest version of all third party plugins
 * Some design tweaks
2018.11.09 – version 1.3
* Gutenberg plugin compatible
 * Latest wordpress version 4.9.8 compatible
 * Updated latest version of all third party plugins
 * Updated documentation
2018.07.27 – version 1.2
* GDPR Compliant update in comment form, mailchimp form etc.
 * Packed with - Layer Slider 6.7.6
 * Packed with - Revolution Slider 5.4.8
 * Packed with - WPBakery Page Builder 5.5.2
 * Packed with - Ultimate Addons for Visual Composer 3.16.24
 * Packed with - Envato Market 2.0.0
 * Fix - Option for change the site title color
 * Fix - Add target attribute for social media
 * Fix - Bulk plugins install issue
 * Fix - Unyson Page Builder Conflict
 * Fix - Twitter feeds links issue
 * Fix - Iphone sidebar issue
 * Fix - Buddypress issue
 * Fix - Youtube and Vimeo video issue in https
 * Updated designthemes core features plugin
 * Updated language files
2018.03.05 – version 1.1
* Optimised Dummy Content Included
---
Bewertung: 5
Verkäufe bisher: 151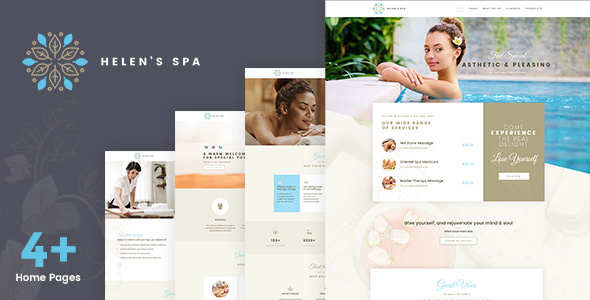 Autoren-Wertung

bewertet 4 Sterne

spitzenmäßig
---
WordPress Immobilien Template Helen Spa - Beauty Cosmetic Theme

Rezensiert von:

Veröffentlich am:

Zuletzt überarbeitet:
---
Haben Sie Fragen?
Haben Sie Fragen zu einem bestimmten Plugin oder Theme? Nehmen Sie einfach
Kontakt
mit uns auf.
Support
erhalten Sie über den jeweiligen Anbieter, sechs Monate Support enthalten.
Wir sind nicht die Entwickler der hier beschriebenen Artikel
, helfen Ihnen aber gerne weiter.
Wir übernehmen für Sie gerne die
Installation & Konfiguration
zu fairen Preisen. Fragen Sie uns.