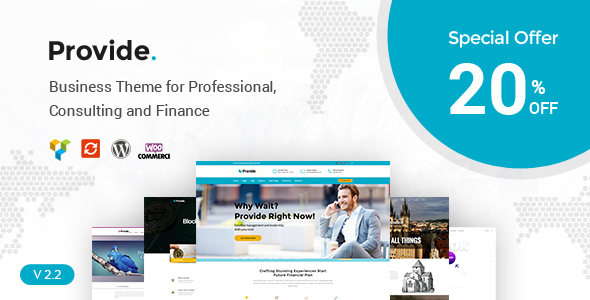 Unser neues Template für den Bereich Corporate Vorlagen für WordPress. Bitte scrollen Sie nach unten um mehr zu lesen. Beachten Sie bitte die WordPress Version, die das Vorlage unterstützt. Letztes Updates des Templates am 2018-04-02T23:51:26+10:00
Aktuelle Version 2.2.0 – 2. April 2018
WordPress 4.9.x bereit
WooCommerce 3.2 unterstützt
WPML unterstützt
Bieten Sie eine umfassende professionelle Unternehmensberatung, Finanzen Mehrzweck WordPress-Vorlage. Stellen Sie ein WordPress-Vorlage bereit, das auf die Anforderungen einer Unternehmenswebsite wie Finanzberater, Buchhalter, Beratungsunternehmen usw. zugeschnitten ist. Es enthält den bekanntesten Seitenersteller "Visual Composer", mit dem der Benutzer mit wenigen Klicks eine Seite erstellen kann. Es ist voll ansprechbar und leicht anpassbar.
Dies ist ein Geschäftsthema, das für die Online-Präsenz von Unternehmen und Finanzunternehmen hilfreich ist. Dieses Thema ist nur für einfallsreiche Organisation, IT-Business-Industrie gemacht. Es ist flüssig und einfach mit dem Bootstrap-Gitter-Framework zu verwenden. Aufgrund dieser Anwendungsfälle ist es genau zusammengestellt, um Ihnen einen Vorsprung und eine solide Etablierung in Ihren Projekten zu verschaffen. Alle Segmente sind praktisch und einfach zu bedienen. Provide funktioniert perfekt auf allen Mobil-, Tablet- und Desktop-Geräten. Dank des fehlerfrei berechneten Bootstrap 3.3.7.
Hilfe benötigen?
In Kontakt kommen
Protokoll aktualisieren
Version 2.2.0

Added 2 Demos
 - Crypto
 - Apps
Updates plugins

Version 2.1.0

Added 9 Demos
 - Coffee
 - Interior
 - Boutique
 - Church
 - Pets
 - Mechanic
 - Beauty Salon
 - Boutique
 - Pizza
Some issue fixed
Updates plugins

Version 2.0.0

WooCommerce 3.2 Added with Demo
Add New: 7 Pre-designed demos of different niches
Add New: Header style for woocommerce with cart
Add New: shortcode "Simple Gallery Carousel" 
Add New: shortcode "Modern Filter Products" 
Add New: shortcode "Simple Product Carousel" 
Add New Option: in footer to customize widget column.
Add New Option: in "Latest News" shortcode to show/hide (post author, post views, post comment, post date)
Add New Option: in "Fancy Features" shortcode for custom link of feature
Fixed some styling issues

Version 1.8.0

Added Option to show/hide Price Table package plane
Added Masonry Gallery Shortcode
Added Ovelry Blog Post Shortcode
Added 3 Demos
 - Fashion
 - Photography
 - Modeling
Fixed some styling issue

Version 1.7.2

Visual Composer Updated
Revolution Slider Updated
Edit Price Table package plan
Added Header 4 Hide/Show option
Added Footer Fixed/Movable option
Single post image fixed

Version 1.7.1
Added New Demo
 - GYM Demo
Visual Composer Update
Revoltion Slider Update
Services Style 2 animation issue fixed
Google API key shifted from General to Contact Us in Vorlage Option

Version 1.7.0
UpDate Visual Composer Plugin
UpDate Revolution Slider Plugin
Added WPML Supported
Added Provide Child Vorlage

Version 1.6.9
Fixed Vorlage Option issues
Fixed RTL issue
Fixed Footer About Widget
Fixed Project Detail issue
Add Languages/Translation option
Version 1.6.8
Fixed responsive header 
Masonry style added in services block
Fixed Google Analytics issue
Version 1.6.6
Change Header info section (Time, Email, Phone)
Youtube Video issue solved
Add background image option in "Request Call Back" shortcode
Version 1.6.5
Added breadcrumb hide/show option
Added link option in Server Block
Added YouTube video option in Video short-code
Added YouTube full-width video short-code
Version 1.6.2
Integrate Contact Form 7
Version 1.6.1
Compatible with WordPress 4.8
Update Visual Composer Plugin
Update all demos content
Version 1.6.0
Add 2 new demos
Fix Price Table short-code issue
Version 1.5.2
Updated PO file
Version 1.5.1
Added one more demo
- Musician
Version 1.5.0
Added SMTP settings in Vorlage options
Added Envato update system
Version 1.4.1
Added GUI run time language uploader
Update Visual Composer plugin
Update Provide Custom plugin
Added 2 New Demos
 - Justice
 - SEO
Version 1.4.0
Added Three new header style
Added Coming Soon Template
Added 2 new demos
 - Construction
 - Medical
Version 1.3.3
Fix color.css bug
Added custom style option in Vorlage option -> General setting
Added custom JS option in Vorlage option -> Footer setting
Added style.css editor option in Appearance -> Style.css Editor
Version 1.3.0
Added a new demo for finance business
XML demo importer added
Fixed demo import issue
Various options updated and issues resolved
Version 1.2.2
Fixed demo import issue
Various options updated and issues resolved
Version 1.2
Fixed boxed version issues
Various options updated and issues resolved
Version 1.1
Style and responsive issues resolved
Demo files updated
RTL version added
Box version added

---
Bewertung: 4.54
Verkäufe bisher: 289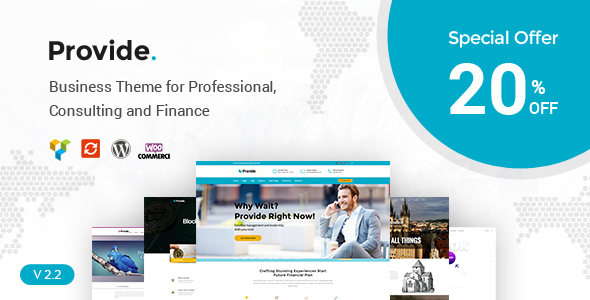 Autoren-Wertung

bewertet 4 Sterne

spitzenmäßig
---
WordPress Corporate Template Provide - Responsive Multipurpose WordPress Theme

Rezensiert von:

Veröffentlich am:

Zuletzt überarbeitet:
---
Haben Sie Fragen?
Haben Sie Fragen zu einem bestimmten Plugin oder Theme? Nehmen Sie einfach
Kontakt
mit uns auf.
Support
erhalten Sie über den jeweiligen Anbieter, sechs Monate Support enthalten.
Wir sind nicht die Entwickler der hier beschriebenen Artikel
, helfen Ihnen aber gerne weiter.
Wir übernehmen für Sie gerne die
Installation & Konfiguration
zu fairen Preisen. Fragen Sie uns.