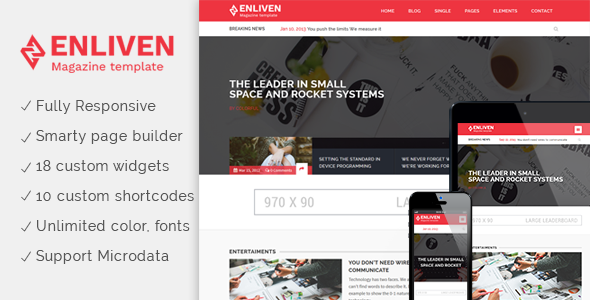 The Enliven ist ein WordPress-Thema für Magazine, Zeitungen oder Ihren persönlichen Blog. Es hat modernes Design und sauber codiert. Basiert auf dem beliebtesten HTML-CSS-Framework Bootstrap. Template kann für alle Zwecke von Unternehmen und Freiberuflern implementiert werden. Wie immer ansprechbar und Netzhaut bereit.
Änderungsprotokoll

1.8 / 2016, Sep 18
- fix bug: missing unit 'px' for features "custom typography".
- update: add some widget's option to turn on/off created date, number of comment, thumbnail, read-more button.


1.7 / 2016, Aug 24
- tested up to: WordPress version 4.6
- update document: How to config Mailchimp Newsletter & Flickr Feed widgets?
- update widget "E Socials Counter": get facebook likes by Facebook SDK
- update "TGM-Plugin-Activation" to version 2.6.1


1.6 / 2016, May 12
- tested up to: WordPress version 4.5.2
- apply option sticky header for all header style. Vorlage options / Header / Sticky header.    
- add new widget: newsletter with Mailchimp(http://mailchimp.com/)
- add new widget: flickr feed with lighbox effect
- update: plugin Codestar Framework to v1.0.1
- update: plugin Enliven Plus to v1.3
- update: plugin Aegis - Page Builder v1.4


1.5 / 2016, March 31
- support: image hover effect. Menu: Vorlage options / System / Hover effect.
- support: right to left with rtl.css. Menu: Vorlage options / System / RTL.
- support: printing media with print.css


1.4 / 2016, March 20
- improve layout: set min-height for .e_bottom / header with mega-menu.
- improve performance: apply transient API to cache result of widget "Socials Counter" 
- fix bug: if ticker disable, page content hidden.


1.3 / 2016, March 15
- new: featured "Mega Menu" with drag & drop cpanel as Page Builder
- new: header style with "Side Menu & Mega Menu".
- new: breadcrumb styles.
- new: featured "Back to top Button" 
- improve styling: ticker and open search form by popup.
- improve styling: widgets on footer as: Social Links, Latest Tweets, Post with thumbnail.
- improve performance: apply transient API to cache result of widget "Latest Tweets" 
- improve typography and color schemes.
- fix bug: javascript with sticky sidebar.


1.0 / 2016, February 27
- initial release

Videoanleitungen
Wie erstelle ich eine Startseite mit dem Page Builder?
Wie benutze ich Mega Menu?
Wie konfiguriere ich Newsletter mit Mailchimp?
Wie kann man Enliven in andere Sprachen übersetzen?
Liste der Funktionen
Unsere offiziellen Links
Unsere offizielle Seite
Unsere Hilfe
Legen Sie eine Karte vor
Unser YouTube-Kanal
---
Bewertung: 5
Verkäufe bisher: 26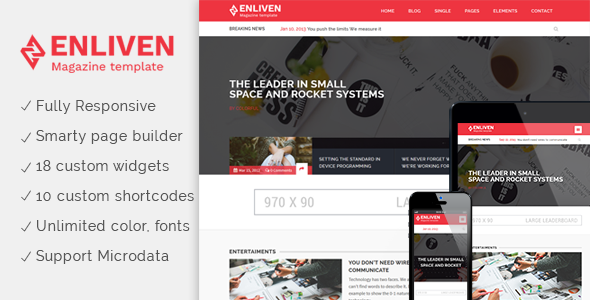 Autoren-Wertung

bewertet 4 Sterne

spitzenmäßig
---
WordPress Blog Template The Enliven - Parallax Blog and Magazine WordPress Theme

Rezensiert von:

Veröffentlich am:

Zuletzt überarbeitet:
---
Haben Sie Fragen?
Haben Sie Fragen zu einem bestimmten Plugin oder Theme? Nehmen Sie einfach
Kontakt
mit uns auf.
Support
erhalten Sie über den jeweiligen Anbieter, sechs Monate Support enthalten.
Wir sind nicht die Entwickler der hier beschriebenen Artikel
, helfen Ihnen aber gerne weiter.
Wir übernehmen für Sie gerne die
Installation & Konfiguration
zu fairen Preisen. Fragen Sie uns.