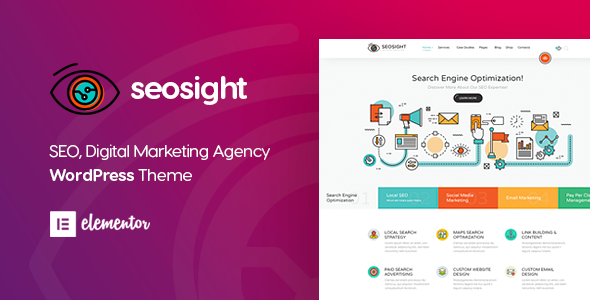 Seosight WordPress Template ist eine neue Idee für die SEO-Agentur, Vermarktungsgesellschaft, Digitale Agentur und E-Commerce.
Außergewöhnliches und auffälliges Design wird eine Stärke einer Website sein. Es gibt nichts Vergleichbares zu diesem SEO-Thema. Seosight wird für Besucher zu einer interessanten Website, weil sie so etwas noch nie zuvor gesehen haben. Machen Sie eine Website für Besucher bemerkenswert und erzielen Sie viel mehr Gewinn, als Sie erwarten.
SEOsight wurde entwickelt, um alle Bedürfnisse von SEO-Agenturen, Experten und Freiberuflern, Online-Marketing, Agenturen für digitales Marketing, Webstudios, Digitalagenturen, Werbeagenturen, SMM-Experten, Lead-Generierungsspezialisten, Designern, Landing Pages, Unternehmenswebsiteentwicklung, Webentwicklung zu erfüllen , etc. Dieses SEO-Thema kann jedes Unternehmen zum Erfolg führen!
EINFACHER FRONTEND-EDITOR
Das Elementor-Plugin ermöglicht es, jedes winzige Element des Seosight WordPress-Themes anzupassen. Bearbeiten Sie alles im Echtzeitmodus mit mehreren Optionen des Elementor Frontend Editors.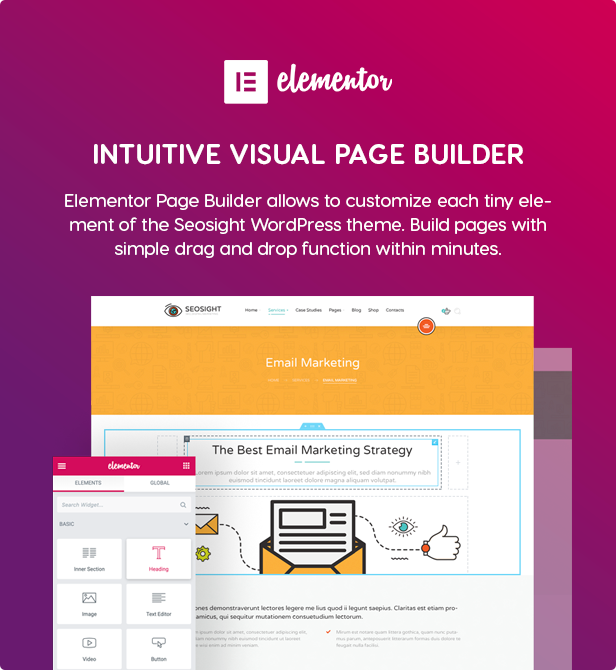 AUSSERGEWÖHNLICHES AUFFALLENDES DESIGN
Sie möchten, dass Ihre Website auf den ersten Blick in Erinnerung bleibt? Helle Seiten und vielfältige UI/UX-Elemente begeistern die Besucher. Nutzen Sie diese Gelegenheit jetzt!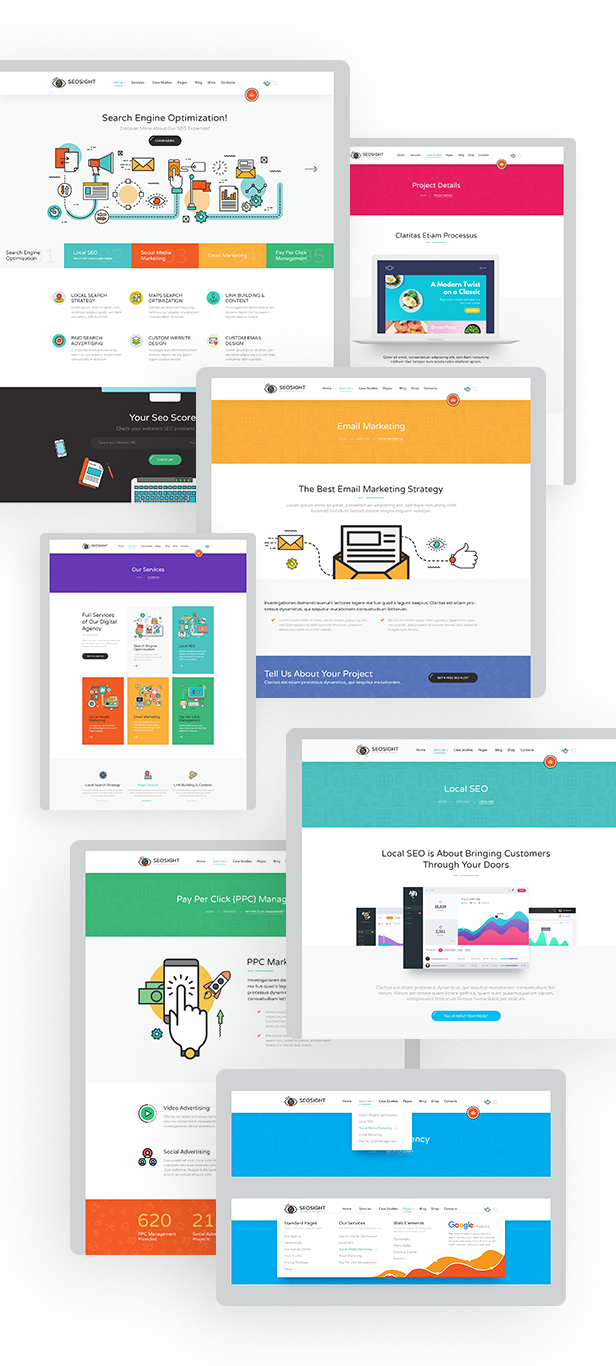 KLARE SEO-OPTIMIERTER CODE
Seosight sieht auf allen Geräten großartig aus, dank gültigem CSS und HTML, voller Reaktionsfähigkeit des Themes und der Implementierung der besten SEO-Regeln.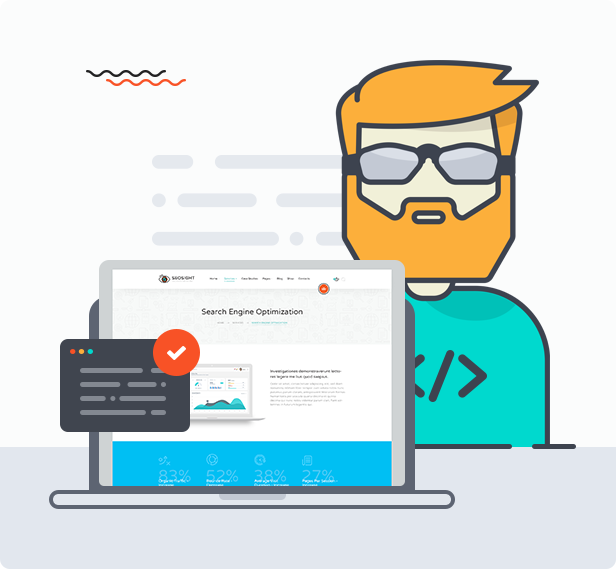 EINFACH ZU KONFIGURIEREN
Der einfache 1-Klick-Demo-Import erspart Ihnen viel Zeit und Nerven. Sie sind nur einen Klick davon entfernt, großartige SEO-Themen für Ihre Website zu importieren.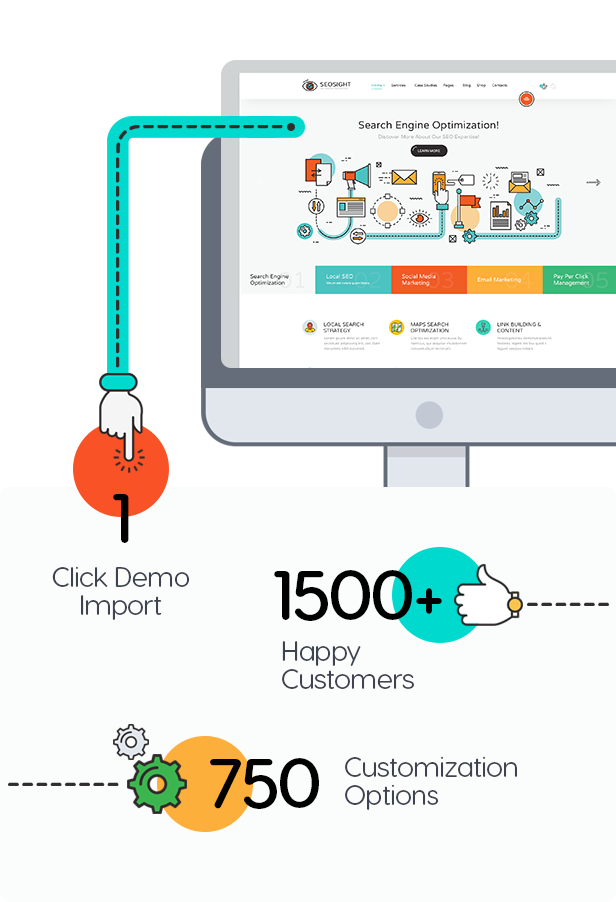 PLUGIN-KOMPATIBILITÄT
Erweitern Sie die Seosight-Funktionalität und nutzen Sie die außergewöhnliche Plugin-Kompatibilität. Seosight funktioniert nahtlos mit den nächsten Plugins.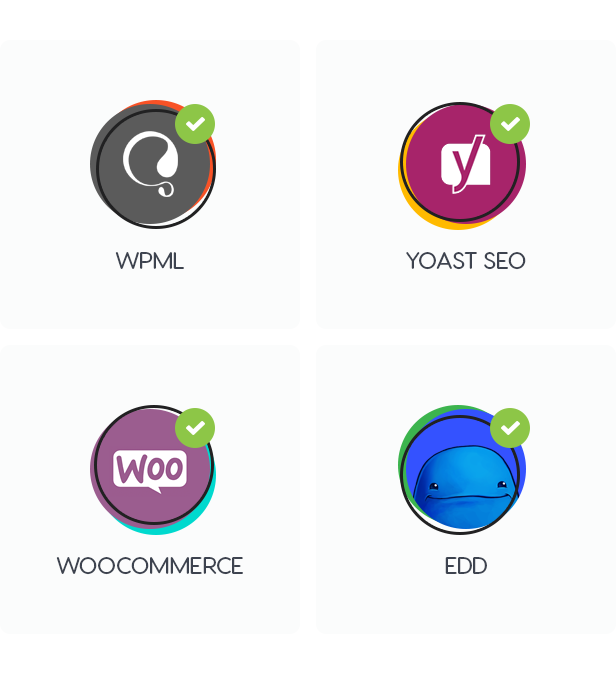 KUNDENBEWERTUNGEN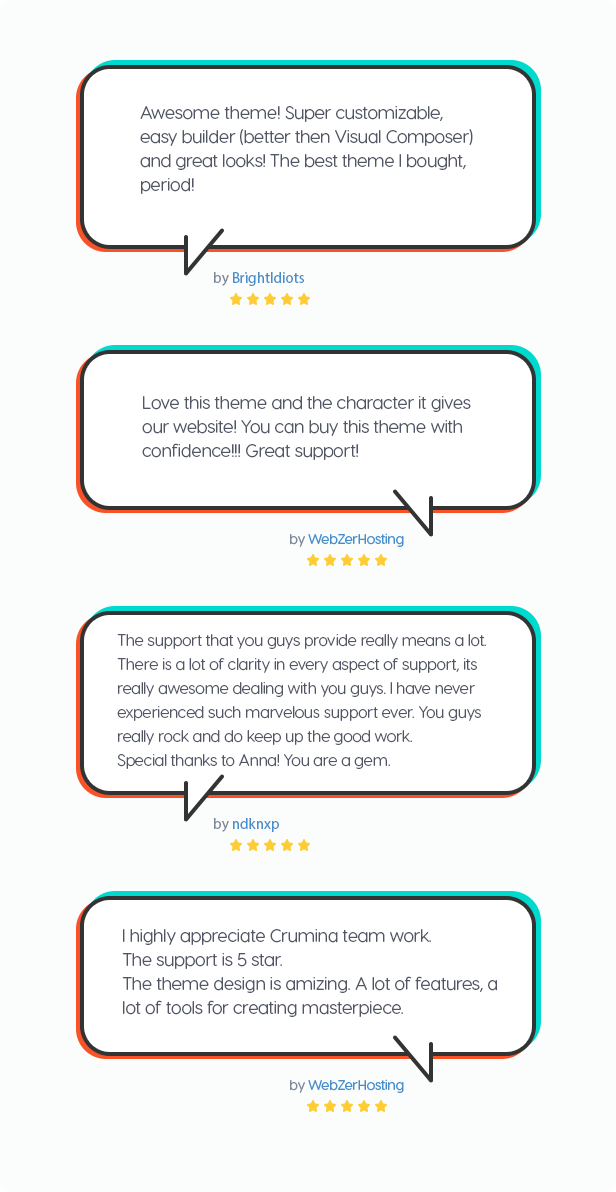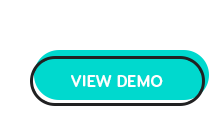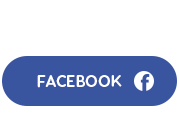 HAUPTEIGENSCHAFTEN

Auf der Suche nach einem wunderbaren Marketing-Thema? Amazing Seosight ist das beste WordPress-Template für Online-Marketing-, SEO- und Social-Media-Spezialisten. Dieses schöne SEO-Thema umfasst den KingComposer Frontend Live Editor, RTL-Unterstützung, einfach anpassbare Slider, den hinzugefügten Kontaktformular-Builder und andere hilfreiche Optionen. Das Seosight-Template wird gemäß den neuesten WordPress-Regeln, Tags und besten SEO-Praktiken erstellt. Seine reibungslose Funktion und das perfekte Design überraschen Sie angenehm. Nutzen Sie die Chance, eine bemerkenswerte Website zu erstellen.
Das Seosight WordPress-Template bietet eine breite Palette von Optionen für jeden Seitenblock. Sein auffälliges Design zieht die Aufmerksamkeit der Website-Besucher auf sich, sodass die Website-Rate definitiv steigen wird.
Der einfache 1-Klick-Demo-Import erspart Ihnen viel Zeit und Nerven. Sie sind nur einen Klick davon entfernt, ein großartiges SEO-Template für Ihre Website zu importieren. Seosight bietet eine große Auswahl an KingComposer-Optionen, wie Slider, Akkordeon, Tortendiagramme usw. Es kostet den Administrator nichts, eine weitere Website-Seite zu erstellen und Inhalte nach Belieben zu bearbeiten. Seosight ist ein neues Thema mit klarem Code für die einfache Website-Überprüfung durch Suchmaschinen. Nutzen Sie die Möglichkeiten, eine unplausible SEO-Website zu erstellen, oder wählen Sie einen anderen Bereich wie SMM, SaaS, Lead Generation. Seosight ist eine perfekte Mischung aus den neuesten Designtrends und SEO-optimiertem Code.
SEO-optimiertes WordPress-Template für Agentur für digitales Marketing
Kein anderes Premium-Template auf dem Markt ist so flexibel und leistungsstark wie Seosight WP.
Tolles WordPress-Template für Online-Marketing, SEO & Social Media Agentur
Agentur für digitales Marketing
Seosight-Template für Social Media Marketing
SEO-Spezialisten & Freiberufler
Designer & Kreativagentur
Online-Marketing-Firma
Das ideale Thema für Social Media Agenturen und Digital Marketing Experten und deren Kunden:
Thema für Geschäfts- und Unternehmenswebsites
Kreativ und Portfolio
Marketing-Blog WP-Thema
Seosight speziell optimiert für die nächsten Nischen:
Marketingagentur

Agentur für digitales Marketing

Online-Marketing-Agentur

Social-Media-Marketing

Social Media Agentur

SEO-Geschäft

SEO-Agentur

SEO-Unternehmen

SEO-Unternehmen

SEO-Marketing-Geschäft

Freiberufler & Berater

SEO-Freiberufler

SEO-Experte

Social Media-Freiberufler

Social-Media-Experte

Freiberufler für digitales Marketing

Experte für digitales Marketing

WordPress-Entwickler

WordPress-Entwicklungsagentur

Agentur für Webdesign

Agentur für Grafikdesign

Blogger & Geschäftsinhaber

Kleinunternehmer

Generelles Geschäft

Geschäft mit Fallstudien

Onlinegeschäft
VOLLSTÄNDIGE FUNKTIONSLISTE
Allgemeine Merkmale
Seosight ist im Design Flat Filled Outline implementiert.
Retina ready – das Design sieht auf jedem Retina-Gerät scharf aus.
Vollständig responsives Layout.
Kompatibel mit allen modernen Browsern – IE10, IE11, Firefox, Safari, Opera, Chrome, Edge
Gebaut mit Bootstrap 3 Framework.
WordPress 4.7.x getestet und freigegeben.
Gebaut mit HTML5 und CSS3.
SEO optimiert nach den besten SEO-Praktiken.
Gut organisierter und sauberer Code.
Automatisierter Template-Updater enthalten.
Bereit für das Child-Template – das Template wird mit dem grundlegenden Child-Template geliefert.
RTL-Support inklusive.
Plugins
Woocommerce ready – Shop-Seite wird auf der Demo-Site dargestellt.
Vorgefertigte Plugins – KingComposer, Kontaktformular 7, Master-Slider, E-Mail-Abonnenten, Unyson, KC Pro, Elementor
Kompatibilität mit Plugins von Drittanbietern – Yoast SEO (kostenlose und Premium-Versionen), WPML, Polylang, WooCommerce 3.0.x, Easy Digital Downloads 2.5.x, Easy Digital Downloads 2.4.x, Easy Digital Downloads, Veranstaltungskalender, WPBakery Page Builder
Inhalt
Demo-Import mit einem Klick
Basierend auf Elementor Builder – leichter und leistungsstarker Builder mit ~40 Blöcken zum Erstellen von Seiten.
Backend- und Frontend-Live-Editoren enthalten – Sie können den Standard-Backend-Editor oder den erweiterten Frontend-Live-Editor verwenden, mit dem Sie Seiten im Frontend bearbeiten und Änderungen in Echtzeit sehen können.
Vollbild-Slider inklusive – Seosight wird mit einem schönen Vollbild-Slider geliefert, mit dem Sie helle und informative Banner erstellen können.
Forms Builder – Seosight verfügt über einen integrierten Contact Form Builder, mit dem Sie mit wenigen Mausklicks beliebige Formularlayouts erstellen können.
5 vordefinierte Zeilenanimationshintergründe mit der Möglichkeit, Standardbilder durch benutzerdefinierte zu ersetzen.
Mehrspaltiges Mega-Menü inklusive
Einseitige Parallax-Option verfügbar
Raster- und Schiebereglerelemente für Portfolio- und Beitragsanzeige post
Unterstützung für SVG-Symbole
Anpassungsoptionen
Intuitives und leicht zugängliches Anpassungsfeld
Die Optionen sind für jeden Themenbereich in separate Registerkarten unterteilt
Vollständig anpassbare Kopfzeile – Tob Bar, Sticky Header, Logo, Suche, Sidebar
Vollständig anpassbare Fußzeile – Design und Layout, Widgets, Kontaktinformationen, Copyright, Schaltfläche zum Scrollen nach oben
Blog- und Portfolio-Optionen
Typografieoptionen durch Abschnitte getrennt – Fließtext, h1,h2,h3,h4,h5,h6 Tags, oberes Menü
Gestaltungsmöglichkeiten – Haupt- und Nebenthemafarben
Vollständig anpassbare atemberaubende Kopfzeile – Größe des Seitentitelabschnitts, Hintergrundfarbe und Bilder, Textfarbe, Ein-/Ausblenden-Option für die gesamte atemberaubende Kopfzeile, Seitentitel und Breadcrumbs
Panel-Optionen abonnieren – Passen Sie das Standard-Abonnementformular an oder ersetzen Sie es durch Ihr eigenes.
Portfolio
3-Spalten-Layour für Portfolioelemente
Sortierbare Portfolio-Optionen – sortierbare Kategorien-Panel anzeigen / ausblenden, Sortierreihenfolge und -typ, Kategorienauswahl, Elemente pro Seite
Individuelle Optionen für Header, atemberaubende Header und Abonnieren-Panel
Individuelle Seitenleisten-Optionen
Möglichkeit, zusätzliche Blöcke mit dem Elementor-Editor hinzuzufügen
2 On-Klick-Optionen für vorgestellte Bilder – Öffnen Sie die innere Portfolio-Seite oder öffnen Sie das vorgestellte Bild in einer Lightbox
2 Arten der Paginierung
Vollständig anpassbare einzelne Portfolioseite
Block für verwandte Projekte verfügbar
Blog
Blogvorlage mit Listenstil
Sortierbare Optionen nach Parametern – Anzeigereihenfolge, Auftragsart, Kategorien
2 Arten der Paginierung
Einstellbare Artikelanzahl pro Seite
Individuelle Optionen für Header, atemberaubende Header und Abonnieren-Panel
Individuelle Seitenleisten-Optionen
6 Postformate verfügbar
Mehrsprachige Optionen
Vollständig kompatibel mit WPML- und Polylang-Plugins – getestet und genehmigt
Das Thema wird mit einer POT-Datei geliefert, mit der Sie das Thema in jede Sprache übersetzen können
Der Sprachumschalter kann in der oberen Leiste des Themas platziert werden. Unterstützt WPML, Polylang-Umschalter sowie benutzerdefinierte Sprach-Shortcodes von anderen Plugins von Drittanbietern.
Unterstützung
Kostenlose Template- und Plugin-Updates
Umfangreiche und ständig aktualisierte Dokumentation
Freundlicher und hilfsbereiter Support, erreichbar über Crumina Help Desk oder info@crumina.net
ÄNDERUNGSPROTOKOLL

Version 5.5.1 [31.05.21]
[fix] options import issue on new installation
[improve] add a link for the phone number in the footer box

Version 5.5 [21.05.21]
[fix] Shop page displays KC ccs codes below the header
[Fix] Polylang Customizer options translation
[fix] License related notice
[fix] Elementor blocks styles

Version 5.4 [22.04.21]
[fix] megamenu issue
[fix] Elementor Promo block issue
[add] possibility to select social share buttons on portfolio
[fix] accordion issue
[fix] smooth scroll in main menu WPRocket compatibility
[fix] bugs with Elementor Pro
[improve] animation for row
[add] option for changing form and color of particles in the particle effect background

Version 5.3 [29.03.21]
- Fixed Template menu issue
- Fixed CSS issues of Elementor blocks
- Updated included plugins

Version 5.1 [01.03.21]
- Improved JS scripts
- Improved CSS styles
- Google Speed optimizations
- Plugins versions updated

Version 4.9.9 [15.12.20]
Fixed installation issues
Fixed Elementor Seosight Widgets errors
Fixed ReCaptcha option for contact forms

Version 4.9.7 [24.11.20]
[fix] check Elementor Seosight Widgets errors
[fix] ReCaptcha fields inside contact forms
[add] a support captcha v3 for the forms
[fix] JS Error in console

Version 4.9.5 [30.10.20]
Fixed editing the Timeline Slider for Elementor
Improved featured image for full-width posts
Fixed sliders issue
Fixed Template stylesheet duplication in KC
Fixed stunning header options for a single page

Version 4.7 [01.09.2020]
- Fix Main Slider flickering issue
- Fix CSS + JS issues
- Fix metabox +customizer issues
- Improved compitability with WP 5.5
- Updated plugins

Version 4.6 [19.08.2020]
- [add] demo templates for Elementor 
- [add] option for setting up the header color 
- [fix] incompatibility with Yoast recent update 
- [fix] Shifted image links 
- [fix] WordPress 5.5 compatibility 
- [improve] Woocommerce templates updated up to 4.4.0

Version 4.5  [23.07.2020]
Fixed bugs in the footer
Fixed main menu icons styles
Fixed styles for the custom menu button classes
Updated WooCoomerce templates

Version 4.4
Fixed notices
Fixed the submenu on IE 11 Browser
Fixed the submenu on mobile version
Fixed the sticky header on Microsoft Edge Browser
Fixed the popup shopping cart price per item
Fixed buttons translation of the popup shopping cart
Updated demo database for KingComposer
Added option for customizing images in the Subscribe panel

Version 4.3.1
Fixed issue with function undefined when Woocommerce disabled.

Version 4.3
Fixed option for the background image in the mega menu
Fixed the second sub-item mega menu
Fixed the menu dropdown
Fixed number counting on the slider in RTL version
Fixed some notices
Fixed Previous / Next post links
Added an option for changing posts order
Added possibility to customize the stunning header for shop pages
Updated Template fonts function

Version 4.2.5
[add] WhatsApp icon to the social share list on the single post
[add] ability to add several levels to the mega menu
[fix] incorrect custom button for menu links

Version 4.2
- fix issues with Gutenberg Blocks styling
- fix Portfolio slider issue
- fix Portfolio featured image feature
- improved breadcrumbs navigation
- added options for scroll-to-top button customization
- added options for contact icons color customization

Version 4.1
- Fix checkbox on Shop pages
- Fix for timeline slider Dots
- Fix for Menu in IE11
- Fix for colors in IE 11
- Fix some blocks paddings
- Added Links Color option

Version 4.0. from April 9, 2020
Full restyling of all Template components
Full code refactoring
New navigation menu algorithm
Added Elementor support
Added two versions of demo data to choose from - with Elementor and King Composer
Improved responsive styling
Improved RTL styling
Improved styling for Gutenberg editor

Version 3.9. from January 28, 2020
Added option to choose title tag for Featured box and Title modules
Fixed Section Padding option
Updated Woocommerce templates
Updated plugins bundled with the Template
Improved portfolio breadcrumbs
Fixed Timeline slider on Safari + other small issues with the module
Fixed Tabs slider module
Fixed email submission in the default Subscribe form before footer
Email subscribe plugin replaced with Mailchimp in demo data for new users
Improved Featured Image option in the portfolio editor
Fixed mega menu display
Fixed behavior of the Cart dropdown in header on mobile screens
Improved Clients Slider module
Fixed pagination styles on blog and portfolio pages
Fixed Background Images option
Fixed styling of the Sale icon on the shop page
Fixed Test color option for colored Pricing Box

Version 3.7. November 14, 2019
- Updated Woocommerce templates
- Fixed error in class-fw-auto-install.php file

Version 3.6 - 15.07.2019
-fixed video background sound option
-fixed fonts issues
-fixed post navigations
-fixed scroll to top button
-fixed style for dropdown cart
-fixed featured box alt text
-fixed h1 tag for blog post title
-fixed description for category
-fixed the animated images option in subscribe section
-fixed smooth scroll
-added "nofollow" link for clients section
-added required option for "name" field in email subscriber block
-added an option to upload custom svg in scroll to top button
-improved RTL styles on mobile
-improved styles for 404 page
-improved smooth scroll
-removed google+ from share icons

Version 3.5 - 22.05.2019
-fixed internal page settings
-fixed displaying form in RTL
-fixed slider in IE
-fixed button font family issue
-fixed fonts bug
-fixed target blank for Team Members
-fixed skype link used in footer
-fixed image carousel element
-fixed scrolling top  issue on iPad
-fixed button component issue
-added an option for ajax portfolio block
-added option to set cover video for project
-added padding control option
-added an option to change the title of archive page
-added option to change the color for subscribe button
-added an option to change the place of input fields in Subscribe form
-changed "seo-score" effect names (for better 3-rd plugins compatibility)
-improved top bar option on mobile
-improved styles for WooCommerce product
-updated Woocommerce template files
-made comment form strings translatable

Version 3.4 - 11.04.2019
fixed php notice
-fixed password protected option for posts
-fixed Target: _blank for pricing box
-fixed Gutenberg styles incompatibility issues
-fixed Subscribe form
-fixed vertical tab block styles
-fixed internal page settings
-fixed Yoast SEO incompatibility issue
-improved search functionality in the header
-added highlight animation to the active menu item

Version 3.3.7 - 22.02.2019
added "telegram" to social network buttons
added "hide" option for the search bar on the blog page
improved styles for menu button
fixed slider content placement option
fixed php 7.3 incompatibility issue
fixed vertical slider`s scrolling issue on mobiles
fixed top bar button color issue
fixed color picker option
fixed radio button styling issue
fixed previous/next pagination on the blog post
fixed radio button styling issue for BuddyPress register form
fixed menu typography settings
fixed notice in recent portfolio

Version 3.3.1 - 21.01.2019
- Fix ajax function
- Fix Styles for Button in MainMenu
- Fix tags on blog post
- Fix for main-slider on Safari
- Fix Vertical Slider scroll on mobile
- Add nofollow attribute for social network links

Version 3.3 - 03.12.2018
-added grid and masonry blog page layout
-added ajax sorting block for portfolio
-added divider element
-added particle background for row section
-added preloader option
-added alt tags for social icons in the top bar section
-added the privacy checkbox to the comment area
-added wide sidebar option
-added author link and start rating for testimonial
-improved email subscribers widget styles
-improved compatible with PHP 7.1
-fixed slider directions arrows for RTL
-fixed "Reddit" icon for the dark Template style
-fixed Newsletters Subscribe block for responsive
-fixed redirect on submit option for forms
-fixed error notification for forms
-fixed color overlay for stunning header
-fixed timeline slider
-fixed displaying the "biographical info" on the blog post
-fixed Newsletter Subscribe form's fields for responsive
-fixed footer contacts grid style
-fixed blog template sidebar
-updated WooCommerce template files
-Update Checker replaced by Envato Toolkit plugin

Version 3.1 - June 26, 2018
-added landing page template
-added auto play option for video player element
-added "instagram" and "youtube" links in "follow us" widget
-improved SEO optimization
-moved RTL version from Template to child Template
-fixed Yoast Seo issues
-fixed pagination for single blog post
-fixed slider styling issue for mobile
-fixed subscribe message styling
-fixed shop page styling
-fixed drop down list on shop page
-fixed stunning header custom background
-fixed slider full height option
-fixed address block via Front Editor
-updated plugins
-updated WooCommerce templates

Version 3.0 - June 05, 2018
-added video background option in stunning header 
-added Alt attributes for images in info box 
-added option to change single portfolio button color
-added option to stop slider on mouse over 
-added WooCommerce shortocodes to Pagebuilder
-added possibility for Polylang to translate Customize fields
-added option to show Sticky menu on mobile 
-added feature to show cart popup in cart menu on click
-added multiple locations on the map 
-added option to upload custom Aside panel icon 
-improved menu on mobile
-improved 404 page grammar mistakes
-fixed submenu on portfolio category page 
-fixed Upload custom icon  option
-fixed infinite loop option for slider

Version 2.7 - April 3, 2018
-added custom attribute option for a Button element
-added random sorting option for portfolio 
-added option to redirect to URL after form submit
-improved small styling issues
-fixed accordion background color
-fixed header opacity for posts
-fixed Share button element bug
-fixed subscribe form error

Version 2.6.1 March 23, 2018
- added Update checker extension and 
- added Template activation option
- improved aside panel responsiveness
- improved WooCommerce styles
- improved top bar button on mobiles
- fixed timeline slider bug
- fixed progress bar style issue
- fixed aside panel scroll on  mobiles

Version 2.5 February 21, 2018
- Updated shop templates for compatibility with WooCommerce 3.3

Version 2.4.9, January 31, 2018
- Fixed Forms section display while installing the Template
- Fixed Subscribe panel on FIrefox browser
- Fixed Chart JS module
- Added shortcodes support for single testimonials and testimonial slider
- Fixed featured image bug in portfolio grid module
- Fixed third menu level
- Added Slack icon in the top bar
- Added styles for BBpress and BuddyPress plugins
- Added styles for Woocommerce My Account page
- Added styles for button in main menu

Version 2.4, October 3, 2017
- Added typography options for logo and logo text
- Fixed portfolio categories display 
- Fixed stunning header options for portfolio categories pages
- Fixed Google+ social share button
- Fixed slider save buttons
- Fixed slider buttons display on iPhone 6 Safari
- Fixed some Template modules for proper analysis with Yoast SEO plugin

Version 2.3, August 7, 2017
- Fixed checkboxes and radio buttons in contact form
- Fixed style bug of the submit messages in contact form
- Fixed dropdown in the footer text block
- Added more allowed tags for Featured box
- Fixed youtube video bug on iPhone
- Fixed animation bug in the main slider
- Fixed Typography>Body option
- New requirement for unclickable columns in mega menu + edited online documentation
- Updated Woocommerce templates
- Fixed Recaptcha in Seosight contact form
- Improved functionality footer contact section
- Improved admin interface of Featured Box module
- Added shortcodes support to Text widget
- Improved Vertical slider with cube effect
- Fixed notice in mega menu
- Added support of <br /> tag in Button Label field

Version 2.2.7, June 8, 2017
- Fixed YouTube video row background option
- Fixed Video module in "Video Player" style
- Fixed incompatibility of King Composer with Unyson builder
- Fixed Tabs module
- Improved portfolio ajax pagination

Version 2.2.5, May 2, 2017
- Fixed validation errors
- Increased speed of demo site
- Button module small fix
- Fixed Load More button on Portfolio page

Version 2.2., May 29, 2017
- Fixed contact form viewing issue
- Fixed microdata in Latest News widget
- <h1> wrapped in <header>
- Fixed style bug in portfolio sorting panel
- Fixed tabs display on mobile resolutions
- Fixed error in Related Projects section
- Fixed portfolio and posts grid, when items are linked to several categories
- Fixed load more button
- Fixed mobile menu behavior on iPhone
- Fixed color of tags widget
- Added one-click demo installation and updated documentation

Version 2.1.3., May 15, 2017
- Added compatibility with premium version of Yoast SEO plugin

Version 2.1.2, May 12, 2017
- Added "Additional Class" field into Buttons settings of the Fullscreen Slider

Version 2.1, May 12, 2017
- Added compatibility with free version of Yoast SEO plugin
- Fixed schema markup in footer contact information
- Added possibility to change images in row animations + documentation tutorial on its usage
- Enabled aside sidebar on mobile
- Added option to disable header animation and sticky header
- Call to action fix
- Fixed Instagram photos display
- Added social share buttons as a module of King Composer editor
- Added option of custom text in stunning header
- Added option to enable/disable aside sidebar per page
- Added Tooltip shortcode + documentation tutorial on its usage
- Fixed Visual Composer conflict on portfolio pages
- Added Name field in Newsletter form
- Added option to remove slider arrows in main slider
- Added feature to have paragraphs in footer text
- Timeline slider fix
- Fixed Header absolute option
- Small fix in top bar
- Fixed Counter numbers
- Fixed footer text block
- Styling fixes in Tabs slider

Version 2.0.3., March 28, 2017
- Small improvements in live editor

Version 2.0.2, March 27, 2017
- php 5.2 compatibility added
- added plugin in TGM config for frontend editing
- fix language switcher issue

Version 2.0., March 27, 2017
- Added RTL styles
- Added live frontend editor feature
- Added open in lightbox feature for portfolio
- Added Form extension as alternative to Contact Form 7
- Fixed menu alignment
- Fixed small styling issues
- Optimized CSS and JS
- Updated documentation

Version 1.1., February 23, 2017
-Fixed issues in child Template-
-Added new icons into Contacts section in footer-
-Added support of HTML tags in Contacts section in footer-
-Added hyperlinking of titles in Featured box and Promo box modules-
-Fixed featured box display on tablets-
-Fixed aside panel display in the child Template-
-Removed sticky menu in mobile resolutions-
-Featured box options improved-
-Fixed home slider on IE-
-Added top panel in header section-
-Improved documentation-

Version 1.0.2., January 31, 2017
-Added compatibility with older versions of Safari browser-
</h1>
---
Bewertung: 4.88
Verkäufe bisher: 2788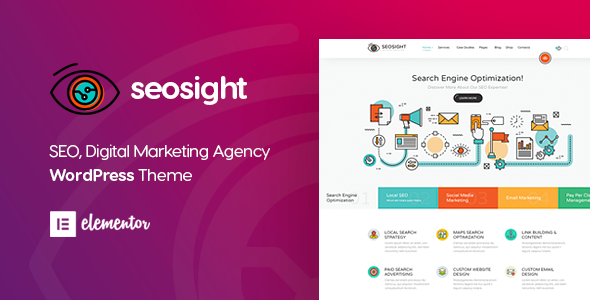 Autoren-Wertung

bewertet 3 Sterne

gut
---
WordPress Immobilien Template Seosight - Digital Marketing Agency WordPress Theme

Rezensiert von:

Veröffentlich am:

Zuletzt überarbeitet:
---
WordPress Template Seosight - Digital Marketing Agency WordPress Theme für Makler
HINWEIS IN EIGENER SACHE
Support erhalten Sie über den jeweiligen Entwickler. Wir präsentieren lediglich Themes und Plugins zu Wordpress und bewerten diese.