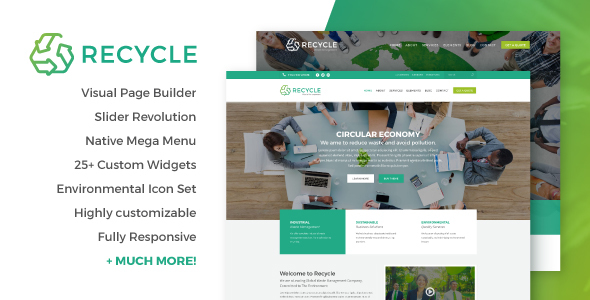 Recycle ist ein hochgradig anpassbares WordPress-Thema, das für jedes umweltfreundliche Unternehmen, jede Umweltorganisation, jedes ökologische Projekt, jede Abfallentsorgungsfirma und jedes Recyclingzentrum geeignet ist. Das Thema ist mit einem modernen Design, einem intelligenten Farbmanagement und einem benutzerfreundlichen Seitenersteller voll ansprechbar.
Hauptmerkmale:
Einfach zu bedienen und schneller Page Builder
Ein-Klick-Demo-Import
Einheimisches Megamenü
Keine Codierung erforderlich
Reaktionsschnelles und mobiles Design
Über 25 benutzerdefinierte Widgets
Benutzerdefinierter Beitragstyp für Teammitglieder
Arbeitsstunden-Widget mit hervorgehobenem aktuellen Tag
Teamkarussell oder Gitter-Widget
Empfohlene Seiten Widget
Fortschrittsbalken & animierte Zähler
Responsive Video Lightbox Widget
Parallaxe Hintergründe
Verschiedene Abschnittsabscheider
Slider Revolution Plugin (Wert von $ 19)
Environmental Icon Pack von Davooda
Mehrere Header-Optionen
Separate Logos für helle und dunkle Header
Header-Widget-Bereich und reaktionsschnelle obere Leiste
Anpassbare Seitentitel
Parallaxenbilder im Titelbereich
Unbegrenzte benutzerdefinierte Seitenleisten
Anpassbare Fußzeile – bis zu 4 Spalten
Regelmäßige und nicht abgedeckte Fußzeile
Anpassbarer Vorfuß- und Copyright-Bereich
Boxed Layout
Mehrere Blog-Layouts
Testimonials Widget
Zurück zum Anfang
Über 600 Google-Schriftarten
Kontaktformular 7 Integration
Option für hellen und dunklen Text in Abschnitten und Widgets
Timeline-Widget
WooCommerce-Unterstützung
Sprachunterstützung von rechts nach links
Tolles Support-Team
+ viel, viel mehr
Bilder sind nicht enthalten.
Änderungsprotokoll:
10. 20. Dezember, Version: 2.1 Kompatibilitätsupdate.
Fixed: Swipebox black screen bug in WP 5.6 resolved.
Improved: WordPress 5.6 compatibility.
Improved: WooCommerce templates updated.
New: Option to disable demo import

WordPress 5.5 Kompatibilitätsupdate 19.10.2020 – v 2.0

- IMPROVED: WordPress 5.5 compatibility
- IMPROVED: Gutenberg compatibility
- IMPROVED: WooCommerce compatibility
- FIXED: Various styling fixes

Kompatibilitätsupdate 4. Juli 2019 – v 1.9.1

- ADDED: RTL support
- ADDED: Gallery widget: Option to link Gallery images to a custom url
- IMPROVED: Translation files updated
- IMPROVED: WooCommerce 3.6.5 compatibility
- IMPROVED: WordPress 5.2.2 compatibility
- IMPROVED: Gutenberg improvements
- IMPROVED: Improved tablet styling
- IMPROVED: Contact form 7 styling of checkboxes, radio fields and labels.
- IMPROVED: Owl carousel improvements and library update
- REMOVED: Orion Widget block.
- REMOVED: Classic editor dependancy

Kompatibilitätsupdate für WordPress 5 und WooCommerce 8.12.2018 – v 1.9.0

- ADDED: WordPress 5 compatibility
- ADDED: Orion widgets Gutenberg block
- IMPROVED: Page Speed optimisation: Reduced Icon pack sizes.
- IMPROVED: WooCommerce 3.5.2 compatibility
- FIXED: Various styling fixes

Kleinere Aktualisierung: 13.3.2018 – v1.8.1

ADDED: Responsive menu item options (visibility settings of menu items for different screen sizes)

Update: 5.3.2018 – v1.8 Weitere Informationen zum Update finden Sie hier.

ADDED: Simple team widget: allows adding staff members manually, without using the post type
ADDED: Color overlays on widgets and cells
ADDED: Layout options: new settings added to improve site speed and SEO
ADDED: Layout options: new settings for boxed container border rounding and drop-shadow
ADDED: Layout options: possibility to hide the heading on page titles and display breadcrumbs only
ADDED: Layout options: possibility to adjust menu item spacing
ADDED: Layout options: boxed menu layout for header with bottom menu
ADDED: Layout options: boxed menu layout for header with bottom menu
ADDED: Layout options: team settings
IMPROVED: WooCommerce 3.3+ compatibility
IMPROVED: Logos widget: option to open links in new tab
IMPROVED: Page Settings now work on the Blog page.
IMPROVED: Hide mobile menu search if not enabled
IMPROVED: Page Builder UI minor improvements
IMPROVED: Layout options UI (WordPress 4.9+ compatibility)
IMPROVED: Contact form 7 date field and selected field improvements
IMPROVED: Reorganised Layout Options for better UX
IMPROVED: boxed version
IMPROVED: sticky header
IMPROVED: mega menu
IMPROVED: Documentation
FIXED: Submenu hiding behind featured pages widget.
FIXED: Equal height on row not working with Google Maps widget
FIXED: Team widget not showing the department after WordPress 4.9 update
FIXED: Separators showing up on hidden rows
FIXED: Flickering mega menu issue
FIXED: Video lightbox interfering with image/gallery lightbox
FIXED: Cropped accordion inside Advanced tabs widget

Update: 17.11.2017 – v1.7

ADDED: WooCommerce support
ADDED: All plugins are now included in the main-files.zip -> plugins folder
FIXED: PHP 7.1.X compatibility.
FIXED: Team member mail url bug.
IMPROVED: row separators on mobile
IMPROVED: smaller Layout options CSS footprint
IMPROVED: Top-bar display
IMPROVED: Static blocks limit removed. Only last 5 static blocks were displayed in the widget.
IMPROVED: CF7 limit removed. Only last 5 forms were displayed in widget.
IMPROVED: One-page behaviour.
IMPROVED: translation files updated.

Update: 16.6.2017 – v1.6

ADDED: Portfolio Content Type and Widget
ADDED: Static Blocks content type and widget
ADDED: Advanced tabs and gallery widgets
ADDED: additional permalink settings for portfolio and team
IMPROVED: IOS compatibility
IMPROVED: IE COmpatibility
IMPROVED: Layout Options CSS loading optimization
IMPROVED: Boxed layout
IMPROVED: Gallery post format
IMPROVED: Text logo display
IMPROVED: Carousel behaviour in OrionThemes widgets.
FIXED: Revolution slider widget bug: "Error on page save" fixed

Hauptupdate: 28.4.2017 – v1.5

IMPROVED: PAGE BUILDER 2.5 compatibility
ADDED: Native Mega Menu
ADDED: Transparent header option
ADDED: New separator
ADDED: header call to action color option
ADDED: new demo pages
ADDED: icon with text alignment,
IMPROVED: Uppercase option on heading widget
IMPROVED: Contact form 7 fields styling
IMPROVED: image option on icon with text widget
IMPROVED: Post meta settings
FIXED: Autoplay on carousel widgets (testimonials, team, recent posts)
FIXED: Recent posts 1 columns on tablets
And various other improvements.

Almost all files changed

---
Bewertung: 4.88
Verkäufe bisher: 940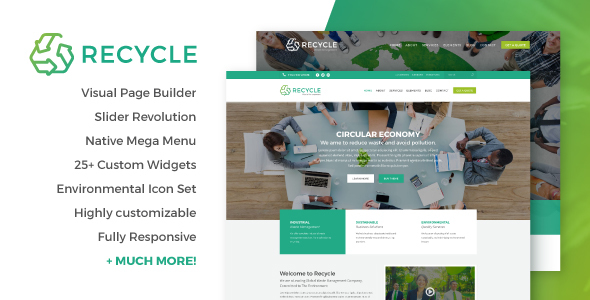 Autoren-Wertung

bewertet 5 Sterne

spektakulär
---
WordPress Immobilien Template Recycle - Environmental & Green Business WordPress Theme

Rezensiert von:

Veröffentlich am:

Zuletzt überarbeitet:
---
WordPress Template Recycle - Environmental & Green Business WordPress Theme für Makler
HINWEIS IN EIGENER SACHE
Support erhalten Sie über den jeweiligen Entwickler. Wir präsentieren lediglich Themes und Plugins zu Wordpress und bewerten diese.